Hard Drive Shredding Services
A single hard drive can store enough confidential data to fill a library. Even when information is deleted from a hard drive, it can still be recovered by tech-savvy criminals hoping to gain access to valuable information. The only way to completely eradicate proprietary data from your hard drives is through physical destruction.
Altitude DocuShred's hard drive destruction service offers your business a secure solution for preventing the theft of digital data stored on your media devices. Need to destroy other types of digital media? We offer media destruction for other digital devices too.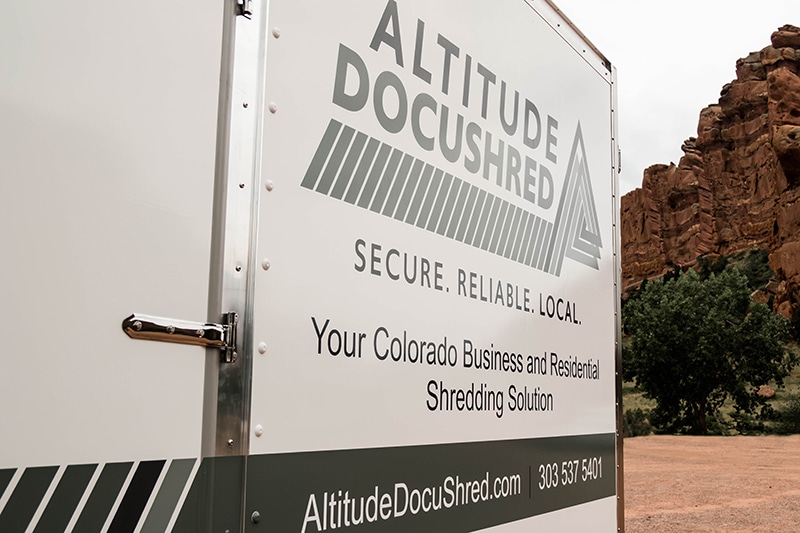 On-Site Hard Drive Destruction
Our on-site hard drive destruction service provides added data protection for your business. All hard drive shredding takes place right on your property while you watch. Our state-of-the-art mobile hard drive shredding equipment can destroy hundreds of hard drives per hour. In our heavy-duty shredder, your hard drives are broken into tiny particles that are impossible to reconstruct.
Certificate of Destruction, upon completion
Shredded material is responsibly recycled
Whether you need a one-time hard drive shredding service or are looking for a reliable scheduled service, we're here to help. Altitude DocuShred provides hard drive destruction and media shredding for clients from Colorado Springs, throughout the greater Denver area and north to Fort Collins.
Regulatory Compliance
If your company collects and stores medical, financial or other consumer information, you may be required to adhere to state and federal privacy laws governing how you handle that information. Our hard drive shredding service can help keep your business compliant. Our hard drive destruction supports you to fully comply with the following laws:
HIPAA
Sarbanes-Oxley Act (SOX)
Gramm-Leach-Bliley Act (GLB)
FACTA Disposal Rule
Bank Secrecy Act
Patriot Act of 2001
Identity Theft and Assumption Deterrence Act
US Safe Harbor Provisions
PCI Data Security Standard
We offer a detailed audit trail that includes the manufacturer identification information, model, and serial number of your destroyed hard drives. All information is added to your Certificate of Destruction for proof of compliance.
Information Security
Altitude DocuShred is committed to protecting your information. Our shredding technicians have passed extensive background checks and undergo regular drug screening. We take every precaution to make sure your hard drives don't fall into the wrong hands. If you have more extensive hard drive destruction requirements, we can provide locked collection bins so employees can quickly drop drives inside for later shredding. These tamper-resistant containers are tracked, following a strict chain of custody protocol during every stage of the hard drive destruction process.
Why Choose Altitude DocuShred?
We're your local small business, not a national or international conglomerate. We respond quickly to your shredding needs. No waiting two weeks for a shred job to occur. We get to know you and your unique situation and provide our service consistently and reliably.
For additional information and pricing, please contact us at 303-537-5401. If you've reached us after hours, or would otherwise prefer, you may fill out and submit using the form on this page. A representative will contact you within one business day.