Shredding Services in Aurora, Colorado
Do You Maintain Any of the Following Items At Your Aurora, CO Office?
financial papers
employee documents
baking statements
invoices
health records
contact records
tax documents
employee contracts.
If so, your firm may benefit highly from secure document shredding services provided by Altitude DocuShred.  Please contact us as soon as possible for further information or a free quote! Our mobile state-of-the-art shredding trucks service businesses throughout Aurora, CO regularly.
Fast and Secure Drop-Off Shredding in Aurora, CO
Document shredding is an important step in strengthening the security of your home or business since it prevents sensitive information from getting into the reach of criminals such as identity thieves. Shredding obsolete papers will improve your security, whether you're dealing with information about your company's money, secret court cases, or your personal identity. Our secure drop-off facility provides a quick and secure way to dispose of unneeded documents and hard drives. For many years, Altitude DocuShred has provided safe and secure shredding services to Colorado businesses and residents.
In addition, when you drop off your papers at our secure location, we will shred them in front of you and provide you with a Certificate of Destruction.
Mobile Shredding Services in Aurora, CO
Altitude DocuShred's secure mobile shredding service in Aurora, Colorado ensures that all materials and data are strictly contained and regulated, whether your confidential material is in the form of physical documents, digital media, or branded goods.
With our secure mobile shredding, you may rest assured that your confidential material will be gathered by security-checked and uniformed personnel and shredded on the spot in one of our mobile shredding vehicles, ensuring that confidential information is properly destroyed.
In addition, we also offer a certificate of destruction for each job, so you can be sure your information is safely disposed of.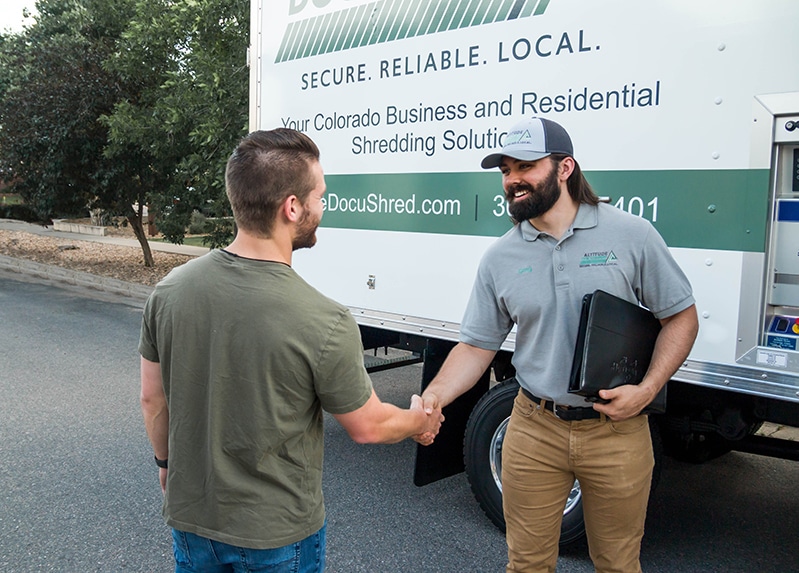 Contact Us Today To Book Your Next Shred!
Our shredding service aims to provide you with a simple and dependable solution that is suited to your organization's needs, ensuring that your company's personal information is handled securely from start to finish.
Whether it's paper documents, digital files, uniforms, ID badges, or other goods, our secure method mobile shredding service in Aurora, Colorado ensures that all materials and data are strictly contained and controlled. To find out more about our mobile shredding solution, please contact us by phone or fill in the form on this page.
Peace of Mind - Residential Shredding in Aurora, Colorado
Identity theft is on the rise, thus personal information protection is becoming increasingly vital. Keep any sensitive information on documents that you don't want anyone else to see for your own peace of mind. Altitude Docushred offers a residential shredding service to help you destroy any personal documents you no longer require.
Paper shredding can be time-consuming and hard, and it may appear to be a waste of time when there are more important things to accomplish, so why not let us handle your shredding? Bills, bank statements, insurance paperwork, letters, hard drives, video cassettes, CDs/DVDs, and memory sticks can all be shredded.
We understand the importance of securely destroying sensitive information, and we are here to help you do just that. Our team is dedicated to providing quality service at an affordable price. In addition, we also participate in various community shred events throughout the year. Keep an eye on our website and social media pages for upcoming events in your area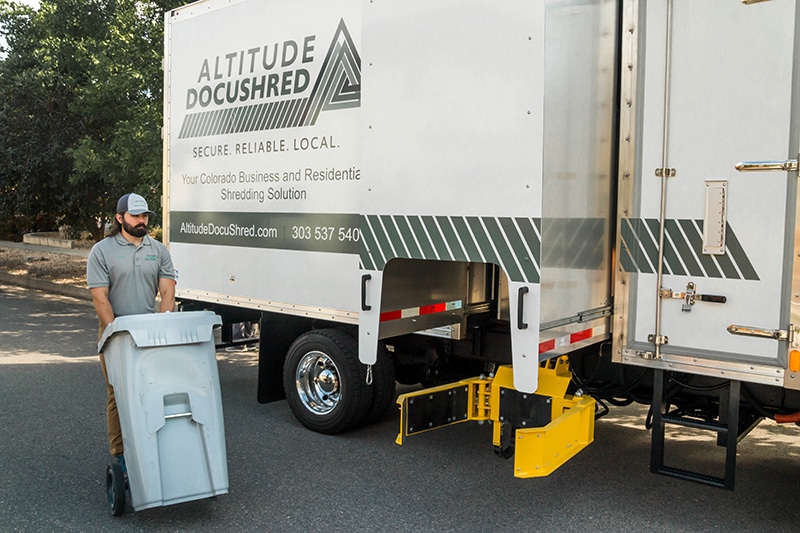 How Does Mobile Shredding Work in Aurora, Colorado?
When you schedule an on-site shredding service in Aurora, Colorado with Altitude DocuShred, we will drive up to your home or business and collect your documents or hard drives from the shredding bins or security consoles we have provided you. Then they are then wheeled out to the shred truck after being transferred into a high-volume security bin. The shredding truck, like a garbage truck, uses a grab arm to pick up the bin and empty its contents into the shredder.
We give you full confidence in the destruction of your confidential documents or hard drives, as you see them being destroyed on-site, in front of you, in our state-of-the-art cross-cut shredder.
For more information about our secure and efficient shredding process, contact us today.
Why Choose Altitude DocuShred?
We're your local small business, not a national or international conglomerate. We respond quickly to your shredding needs. No waiting two weeks for a shred job to occur. We get to know you and your unique situation and provide our service consistently and reliably.
For additional information and pricing, please contact us at 303-537-5401. If you've reached us after hours, or would otherwise prefer, you may fill out and submit the contact form found on this page. A representative will contact you within one business day.

OFFICIAL BLOG OF THE 
ALTITUDE DOCUSHRED 
COMPANY MASCOT