Shredding Services in Brighton, Colorado
Document Shredding for Brighton, CO
For a secure and trustworthy document destruction service in Brighton, Altitude DocuShred is the perfect fit. With years of experience and a track record of excellence in the industry, we are a locally owned and operated business prioritizing customer satisfaction. Altitude can handle any job, whether big or small, residential or commercial, with great care, expertise, and prioritizing your security.
Altitude DocuShred is the most trusted name in Colorado for commercial document destruction, offering various document shredding and disposal services. Our mobile document destruction trucks and secure drop-off facility are top-of-the-line, so you can be confident that your sensitive documents will be treated with care and utmost security.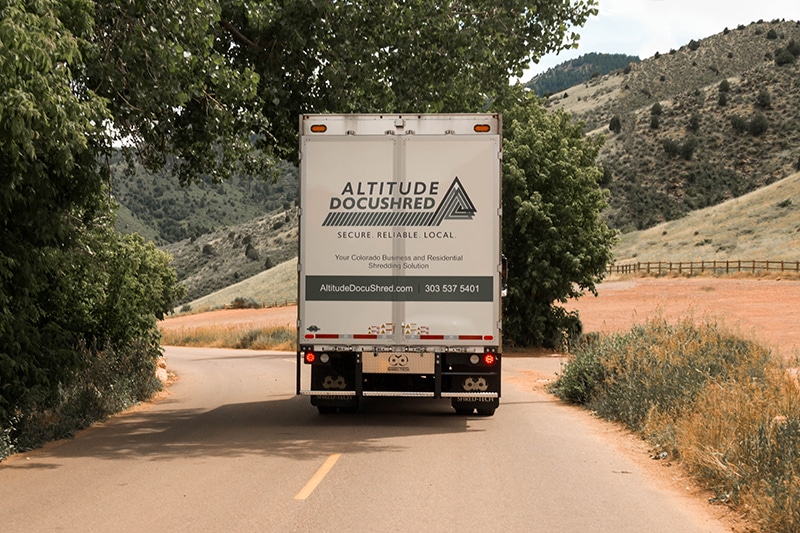 Our Shredding Services in Brighton, CO
Altitude DocuShred is proud to offer various shredding services in Brighton, CO, tailored to your specific needs. Whether you need one-time onsite shredding, recurring, or offsite services, we are here to help.
On-site Mobile Shredding
Our mobile shredding service brings our shred truck to the location you specify, which is incredibly convenient! You won't need to worry about transporting your confidential documents because we will shred them on the spot right in front of you.
Scheduled Shredding
Instead of constantly booking when you need shredding, try a scheduled service. Easily work your document destruction into a schedule so it's easy, quick, and secure. It's a great way to stay compliant with privacy laws and is especially suitable for those who accumulate confidential documents frequently. With our scheduled shredding service, you can choose the frequency of the shredding (daily, weekly, bi-weekly or monthly).
On Demand Pickups & One Time Shredding
Our on demand pickups & one time shredding services offer assistance for businesses that have many documents to shred but do not need regular pick-up services. We will securely transport your documents to our facility for destruction, ensuring your company's compliance. This is a suitable option if you urgently need to dispose of a large volume of material without a scheduled service.
Home & Residential Shredding
We provide residential shredding services for residents of Brighton that are secure and trustworthy to safeguard your homes and identity.
Hard Drive & Media Destruction
Altitude DocuShred offers hard drive destruction services to ensure the protection of sensitive information stored on them. Just like physical documents, hard drives can also hold important information that requires the same level of attention to maintain compliance and integrity for your business. Properly destroying hard drives can prevent security breaches and protect against identity theft.
Our Mobile Shredding Process
Interested in the process of our mobile shredding service? Here's what you can expect when you book an appointment with Altitude DocuShred:
Before shredding your confidential records, we work with you to strategically position secure shredding collection bins or consoles within your office for easier and more convenient collection.
Our shredding professionals will arrive with an onsite mobile destruction truck at your facility. They will be prompt and courteous and work according to a schedule that suits your business needs.
All documents and files, including paper clips and staples, are shredded in just a few minutes. You can observe the entire destruction process yourself.
After finishing the shredding task, you will receive a Certificate of Destruction confirming that your records have been destroyed.
Altitude DocuShred - Your Colorado Shredding Specialists
Choose Altitude DocuShred as your shredding company for a positive and personalized experience!
Get the job done correctly and choose Altitude DocuShred. For more information and pricing, call us at 303-537-5401 or use the contact form for a representative to reach back to you within one business day.

OFFICIAL BLOG OF THE 
ALTITUDE DOCUSHRED 
COMPANY MASCOT