Still Shredding In-House?
Sep 7, 2022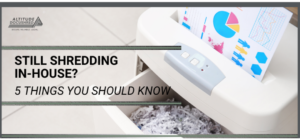 ---
Perhaps your company (or the one you work for) still manages its own shredding.
We get why businesses might choose this route. On the surface, do-it-yourself shredding appears to be a convenient, time efficient and inexpensive option. There are, however, a few really important factors you may not have yet considered.
Let's start with the top 5…
---
#1: TIME
In-house shredding takes time (like, a lot of it). Let's break it down:
Before sending paper material through your office shredder, you'll first need to remove:
Staples
Paperclips & Binder Clips
Binders
Folders & Hanging Folders
Plastic Sleeves
Dividers
Even after all this is done, you still want to take things slowly because most shredders are designed to handle only a few pages at a time. Ask anyone who has dared to test these limits and you'll surely hear of the miseries of shredding paper jams!
But, hey…there is one thing store bought shredders are able to do very quickly – fill up!
Here's where you'll need to budget more time throughout the day for dumping the containers. Oh, and if you're mixing shredded paper with your recycling, you'll definitely want to pay attention to #5.
---
#2: COST
You might think handling your own shredding will save money. According to this analysis from a 2019 report in Security Magazine that's likely not true:
"When you consider the cost of employee labor and factor in depreciation, maintenance and replacement costs on the equipment, it can cost more than $100 per month to operate an office shredder."
Alternatively, a certified professional document destruction service will assess your shredding needs and create a cost-effective solution to satisfy both your business and your budget.
---
#3. SAFETY
Most shredders can't stand up to the heavy, frequent demands of a busy office. Store bought shredders are prone to overheating (fire hazard), dulling blades (security risk) and paper jams (employee injury).
In their list of the "Top 10 Most Dangerous Items in the Office", HowStuffWorks.com ranked the paper shredder as the 2nd most dangerous office item.
The report states:
"A paper shredder is an inherently dangerous office item that must be used with care. The Consumer Product Safety Commission advises that the majority of shredder-related injuries occur while feeding paper into the machine [and] shredder users should be careful to keep long hair, ties, necklaces and loose clothing away from the shredder."
---
#4. COMPLIANCE
Leaving the decisions of what, when and how to shred sensitive information to untrained staff is risky business. You're essentially trusting unprotected information to uncertified individuals using an unsecured process. Worse yet, at the end of the day, you have no Certificate of Destruction to prove compliance.
All-too-common security mishaps leave businesses of all sizes vulnerable to serious data breaches and the consequences that inevitably follow as a result of non-compliance with regulatory agencies including:
Health Insurance Portability & Accountability Act (HIPAA)
Fair and Accurate Credit Transaction Act (FACTA)
Sarbanes-Oxley Act (SOX)
Fair Credit Reporting (FCRA)
Gramm-Leach-Bliley Act (GLBA)
---
#5. SUSTAINABILITY
The upside: Paper is one of the most easily recyclable products on the market.
The downside: Paper is one of the most difficult products to recycle after it's been shredded.
Why?
The size, quantity and contamination of small-scale shreds makes it nearly impossible for recycling centers to process. This means documents shredded at home or work often wind up in a landfill (along with the plastic bags that probably held them – yuck!).
So, how is it that Altitude DocuShred is able to fully recycle shredded paper?
Two reasons:
Paper material processed inside our secure mobile shredding trucks contains only that…paper. No outside contaminants degrade it, so recycling centers are happy to take it.
Unlike homes and offices, Altitude DocuShred manages large-scale shredding. This allows us to produce neatly organized bales of shredded material that can be easily managed by recycling facilities.
---
Are you ready to take your shredding from tedious to trouble-free?
Connect with us today for a convenient quote!
Secure. Reliable. Local. 
---