National Preparedness Month
Sep 3, 2019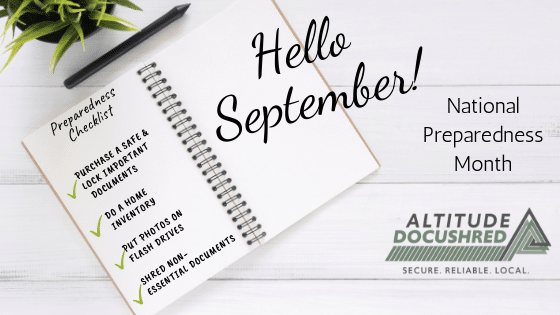 Ahh…September! The time of year when our glorious Colorado summer takes its final bow, making room for cooler nights, warmer colors, and…disaster preparation planning. OK, maybe that last one doesn't give you the warm fuzzies but September is, in fact, National Preparedness Month. So, grab your pumpkin spice latte, because we have some important information to share with you.
Sponsored by FEMA to promote awareness of home, business and community disaster and emergency planning, this year's National Preparedness Month theme is "Prepared, not Scared". As you can imagine, there is a bevy of details to consider when creating a preparedness plan, but we here at Altitude DocuShred prefer to stay in our lane. So, this blog will focus on creating a plan to protect your important belongings and private information.
Have you ever considered how much vital information is scattered in drawers, cabinets, and boxes throughout your home? In the event of a weather emergency, fire, or flood you may have only minutes to get out. First thing first– get people and pets to safety (that's a no-brainer). However, if there's time to gather more items, which documents will be crucial to take with you? Are they stored safely? Do you know exactly where to find them?
"Your personal papers can play a strange role during a crisis.

They are proof that you are who you say you are, but are also a

hot commodity for scams, fraud and theft".
Extreme weather events, natural disasters, fire and flood emergencies are not famously known to offer the courtesy of ample warnings. They can also send your personal documents flying like wind confetti into the hands of scam artists. So, if you're ready to make this September your month of preparedness planning, here are 5 things you can do to get started:
1. Lock them up.
Consider renting a safe deposit box or purchasing a small fire-proof/waterproof safe to keep at home. If using a home safe, store it in an easy to reach area and make sure it's light enough to carry. Here are some important documents you'll want to lock up:
Birth Certificates
Marriage Certificates
Death Certificates
Wills
Property Deeds
Military documentation
Immigration Papers
Green Cards
Passports
Social Security Cards
Photocopies of Driver's Licenses, Insurance Cards and Credit Cards
Pet microchip information or other proof of ownership
Extra set of house and car keys
A small amount of cash
List of emergency contacts
Copies of personal medical prescriptions
Home inventory (see tip #2)
2. Create a Home Inventory
If you're the self-organizing type, all you'll need is a notebook and a recording device such as a cell phone to get started. You'll want to take photos and/or video of your entire home, making sure to include jewelry, electronics, artwork, and one-of-a-kind family heirlooms and memorabilia (don't forget to include the garage, attic and shed).
If you prefer a more methodical approach, there are several helpful (and free!) online tools available to guide you through the inventory-taking process. Check out Microsoft Home Inventory Basic or some free app-based options. Lastly, you want to reach out to your insurance agent. Most major insurance companies provide free home and business inventory assistance to their customers.
3. Protect Your Memories
Don't we all just love our scrapbooks? Our guess is that many of you would consider risking life and limb to save those precious scrapbooks in an emergency.
Don't. Do. That.
If you have old printed photos, consider scanning them to a digital medium, or have a professional do it for you. Then protect them further by either uploading the digital files into cloud-based storage or to USB flash drives.
4. Shred Unneeded Documents
Severe weather events and other disasters can send personal documents flying through your neighborhood like confetti. Check out our blog titled Shred or Stash for a guide to help you decide what can go, and then shred it for safety.
5. Learn More
We at Altitude DocuShred truly hope you'll never need to put your preparedness plan into action. Still, we do believe it's worth the time and effort to create one. Keep in mind this article is by no means intended to be an exhaustive list. For complete information on emergency preparedness, visit FEMA's National Preparedness Month 2019 website, or download their Emergency Financial First Aid Kit (EFFAK).